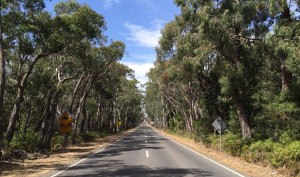 The Road to Recovery & the Healing Heart of Halls Gap 
Bradshaw House – The Next Step Inc offers a short term 24/7 residential 28 day treatment program, a Day rehab program and the Gariwerd Aftercare program (G.A.P. Plan).  Gariwerd is the indigenous Australian name given to the Grampians. Gariwerd was listed on the Australian National Heritage list for its natural beauty and its past and continuing aboriginal cultural and spiritual associations.
Bradshaw House – The Next Step Inc is set in this spiritual heart of regional Victoria, Australia – the Grampians, Halls Gap. Nestled amongst the native Australian bushland of the Grampians National Park, Bradshaw House is set against the backdrop of the Grampians Mountains. Bradshaw House – The Next Step Inc is the healing heart of Halls Gap providing a discreet spiritual setting that underpins the rehabilitation treatment programs. The setting itself enhances the clients' experience in our treatment facility.
Our treatment programs provide the best facilities and resources available to achieve the highest possible outcome for each client seeking long term abstinence. 
We offer 28 day Programs that include both Women's and Men's programs as well as specialty programs specifically tailored for sectors such as young people. Bradshaw House – The Next Step Inc is three and a half hours from Melbourne, Victoria and can adequately meet the needs of those in the public eye or very young people with substance use problems. 
Our structured programs are based on an adapted 12 step model enhanced by experiential data and current research into effective treatment modalities.  All programs are delivered and supervised by experienced health care professionals in the industry. 
We believe a structured aftercare program is pivotal and a necessary progression in the client's recovery, particularly in the first two months following discharge. Clients are encouraged to participate in the G.A.P. Plan following discharge.
Our programs take a holistic approach that address all aspects of recovery involving the entire human condition including:
psycho social treatment administered by professional AOD Counsellors, Psychologists and other external mental health care professionals such as Depression/Anxiety Specialists
motivational sessions
medical treatment administered by a local consulting GP
physical activities such as Hiking, Abseiling, Zumba, Gym delivered by external bodies under the supervision of Bradshaw House Management
nutrition -Food & Mood delivered by external Nutritionists/Dieticians under the supervision of Bradshaw House Management
holistic activities such as Tai Chi, Meditation, Readings, Colour Me Calm, adapted 12 Step analysis
If you are ready to invest in the quality of your life and try and commit to a recovery program then Bradshaw House – The Next Step Inc may be for you.
The first thing you need to know is that you are not alone. The second thing you need to know is that only you can decide if you want what is on offer in recovery from addiction.  If you are at the point where you want to be the best you you can be without a substance use problem, take advantage of your resolve today and call a detoxification facility so you can safely medically withdraw. If you pause or wait you may lose the motivation to do it; act on the impulse now.
Bradshaw House – The Next Step Inc accepts clients that have a minimum detoxification of 2 weeks. Bradshaw House can help you after you have detoxed and you are medically stable. We will endeavour to accommodate you when you are ready.
For the best possible outcome Bradshaw House – The Next Step Inc addresses the client's alcohol/drug use and any associated psychological, social, vocational or other problems with the aim to arm each client with solid relapse prevention strategies.
Our commitment to you is that Bradshaw House – The Next Step Inc continues to, both, modify programs and research treatment modalities to ensure the best treatment is afforded to every client seeking help.